You Tube :  Henry Dechant explains the process of putting fabric on the stabilizer extension

Click on any photo below to start the

Fabric Slide Show

If you want to know more about aircraft rib stitching on fabric surfaces watch You Tubes Videos below .  Great Demonstratons!

Video Right: Robert Lawrence and Henry Dechant of the Fabric Crew talk about the final steps taken in the re-covering with fabric, applying poly-brush and coats of silver, white and orange paint on the elevators and rudder of Canso FNJE

Replacing the fabic on the control surfaces is going very well - YouTube videos below show Robert Lawrence, Don Wieben, Henry Dechant and Brian Wilson moving an elevator into the spray booth. The second video shows Robert putting the final layer of polyspray on the rudder of FNJE

First coat of silver paint on the stabilizer extensions! 

FNJE IS NOW READY FOR THE FINAL PAINT COAT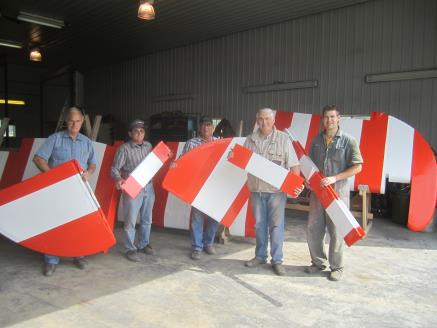 Above: Part of the Fabric Crew for FNJE finally finished fabric work on the control surfaces - from left: Henry Dechant, Don Wieben, John Campbell, Doug Roy and Robert Lawrence (chief painter) 

The elevators and rudder of Canso FNJE in the background

2011 Photos - at the Fabric Shop!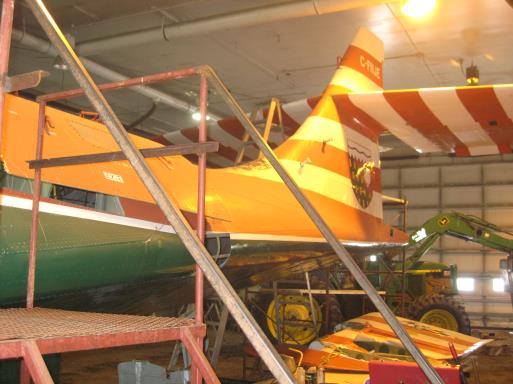 This page is dedicated to work involved in the replacement of fabric on all the control surfaces of C-FNJE.  Nearly all the fabric was damaged during either the accident, the salvage from Sitidgi Lake, NWT or during transport of the aircraft some 2500 km to Fairview.

Throughout the winter of 2010/11, the Canso Crew spent many fun-filled hours preparing, covering and painting the rudder and  elevators of the Canso. 

This winter, 2011/12, the Crew is back to work on the two ailerons. Many new photos to follow (the newest at the top)

Definition - ai•le•ron (noun):  a hinged flap on the trailing edge of an aircraft wing, used to control banking movements