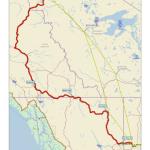 All donations are very much appreciated and will greatly assist with the reclamation of this historic aircraft.  


Welcome to the The Fairview Aircraft Restoration Society (FARS) website.  Dedicated to the restoration of a historic World War II Patrol Bomber - Canso PBY-5A.

Please check out the buttons, on the left, which will lead you to the history, goals and aspirations of our non-profit organization.  


Where is the Canso Shop?    

Fairview, Alberta,Canada ---

FARS was formed to be the operating wing of the Canso PBY-5A, C-FNJE. The Society is currently coordinating the restoration of the Canso, raising funds to help rebuild the aircraft and planning to provide hangar space for FNJE and other historic aircraft. Upon completion of this restoration, FARS will organize demonstrations at airshows and community events to provide school children, aviation enthusiasts and the general public the opportunity to share in a part of Canada's rich history.


April 24th 2016  

Exciting news this week - the airframe of Canso PBY-5A, FNJE has been rolled out of the shop and reunited with the 104 foot wing - after almost eight years!  

A great day for Canso PBY-5A, FNJE!

Also a great day for Canadian History!

And a really great day for everyone involved!!

The Fairview Post had a great article this past week on the background and update of the project.  Please check it out at the link below: 

Rodney Kozar, FARS member and former co-pilot of C-FNJE, was in town on days off from his job fighting wild fires at Fort McMurray and stopped for a visit with some of the Canso Crew.

Rodney currently flies one of the CL-215 water bomber tankers for the Alberta Government, following in his father's footsteps as a Canso pilot and a water bomber fire fighter.